Liverpool's interactive 3D model

Combining 3D Printing and Traditional Model Making to create

 a centrepiece model for RIBA North's new flagship architecture centre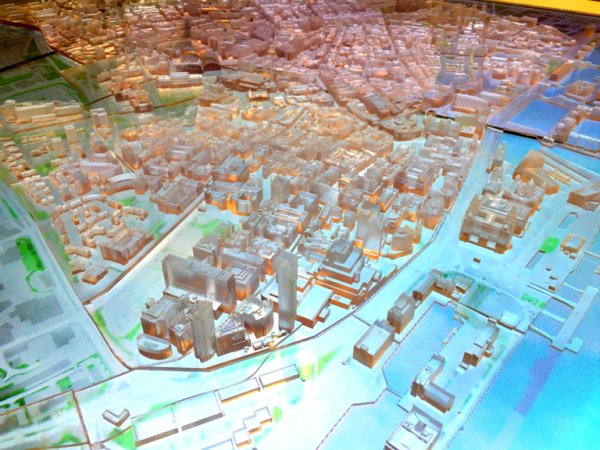 Challenge
Based at Liverpool's renowned Mann Island, The Royal Institute of British Architects (RIBA) officially opened RIBA North, their latest state-of-the-art architecture centre. Hoping to provide visitors with a truly interactive experience, RIBA North approached Hobs to create a 3D model of Liverpool which would sit on top of digital screens.
Located in the City Gallery, a space geared towards learning about Liverpool's architectural history, the 3D model needed to recount stories about the city's past, present and future urban developments.
Key challenges:
Create a unique, interactive 3D digital model
To portray Liverpool's landscape across time; past, present and future
Show Liverpool's surrounding areas, including the Wirral
To create a model which would be used by a wide range of audiences.

Solution
Collaborating with Digital Urban, Hobs 3D would combine digital touch screens and physical 3D printed elements to create an interactive information display.
Hobs used a variety of data capture techniques to gather the 3D data. Firstly, the whole area was flown over to collect data using a method called photogrammetry. This was then modelled by the skilled architectural team to create a computerised 3D model of the area.
Working with local architects, Hobs obtained 3D data for buildings that had received planning consent, but had not yet been built. To future proof the information, these proposed buildings were then added into the computerised 3D model of Liverpool.
The resulting 3D model was then passed to the 3D printing team, who 3D printed the model at a scale of 1:2250. This scale was chosen to show clear details over the whole of the Liverpool's urban landscape and its surrounding areas, without the final model becoming too large.
Hob 3D recommended using high-resolution SLA technology to 3D print the model, as this gives the highest level of detail and is also incredibly strong, making it very suitable for public areas. Its strength is especially important for this 3D printed model as it would sit on top of digital touch screens, so would need to survive a lot of interaction. Due to its many complex and detailed parts, the 3D printing process took a full week to complete.
The Hobs 3D team then took all the elements to Mann Island and assembled the final display.

The Result
The 3D printed model of Liverpool is in constant use and located at the heart of RIBA North. This model shows the power of Combining 3D printing and traditional model making and has been useful to physically illustrating Liverpool's every-changing urban developments, showcasing the past, present and future.
The resulting model is a sustainable asset for Liverpool and will assist the delivery of future developments and help stakeholders make informed decisions.  In addition, the model will also help clients deliver their projects and strengthen relationships between public and private sector partners.
Hobs created the 3D print which sits on top of the digital screens, working with Digital Urban to process the 3D data and create a seamless model which works in harmony with the digital content beneath the screens. We are delighted with the outcome.

Suzy Jones, RIBA North Director
07/04/2021