Combining 3D Printing and Traditional Model Making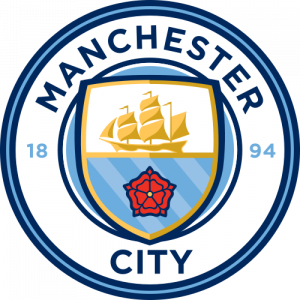 Four identical replicas of Manchester's Etihad Stadium recreated at 1:750 scale using traditional model making techniques, two types of 3D printing, laser cutting, and large scale printing.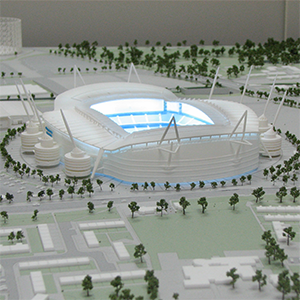 The Etihad Stadium is the world famous home ground of Manchester City Football Club.  As part of the design for their landmark training facility, they wanted to display models of the entire campus in two entrances of the new 2nd team stadium and two entrances of the new training facility.
Hobs 3D were asked to create these models by combining 3D printing and traditional model making, which would show the 80 acres of campus in detail.  The finished models were two-metre square each and lit internally to pinpoint locations on the campus.  The entire models were then sunk into the ground and covered with glass so visitors could walk over them.
By combining 3D printing and traditional model making, Hobs 3D created the model at a scale of 1:750.  3D printing would create exact replicas of the many buildings with traditional model making bringing the model to life.  This meant adding over 1000 scale trees to each model, plus scale cars, buses, metro trains and canal barges.
Peter Bradshaw, MCFC Director of Estates commented: "We are really impressed with the quality, level of detail and consistency across the four models.  We're incredibly proud of our new facilities and the work we are doing to regenerate East Manchester; these models showcase the enormity of the scheme and our investment.  The reaction from our players, staff and visitors has been tremendous and the models are a fantastic finishing touch to the new campus."
Each 2m2 traditional base was constructed from wood and MDF with eight etched and cut styrene sheets joined together to create the contours and changes in the ground levels.  These bases were then masked and sprayed in six different colours to show different landscapes (roads, grass etc).  Dry transfers were then applied to show car-parking spaces, pitch lines and road markings.
The stadiums were SLA 3D printed to get the highest resolution available using the existing 3D digital design files.  They were spray finished to be white, with coloured seats within the stadium.  Other key buildings in the area were digitally modelled by Hobs 3D then 3D printed.
Flood lights and goal posts (only a few millimeters high) were laser cut and added.  The 243 off-campus buildings were also laser cut from white Perspex and added, alongside the thousands of trees and vehicles.
All aspects of the models build, details and quality were all managed in house by Hobs. By combining 3D printing and traditional model making the four models were completed, and installed under glass, in plenty of time for the official opening and launch party.
The models were also spotted on Sky Sports news. See the video here: https://twitter.com/SkySportsNewsHQ/status/673749298744393728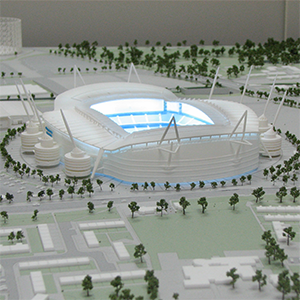 11/06/2021