Premiere of largest 3D printed model of London
We are delighted to premiere the largest (and still growing) 3D printed model of London at London Build 2021. The scaled London twin spans over 2.5 meters, covering almost 40 square kilometers from Hyde Park to Canary Wharf along the river Thames.
The model is our joint creation with AccuCities, produced from AccuCities 3D London CAD data and printed in our London studio.
You'll find us at London Build 2021, November 17-18, in the Welcome Area (near the main entrance to Olympia). The model will also be on display at Digital Construction Week at Excel London, November 24-25.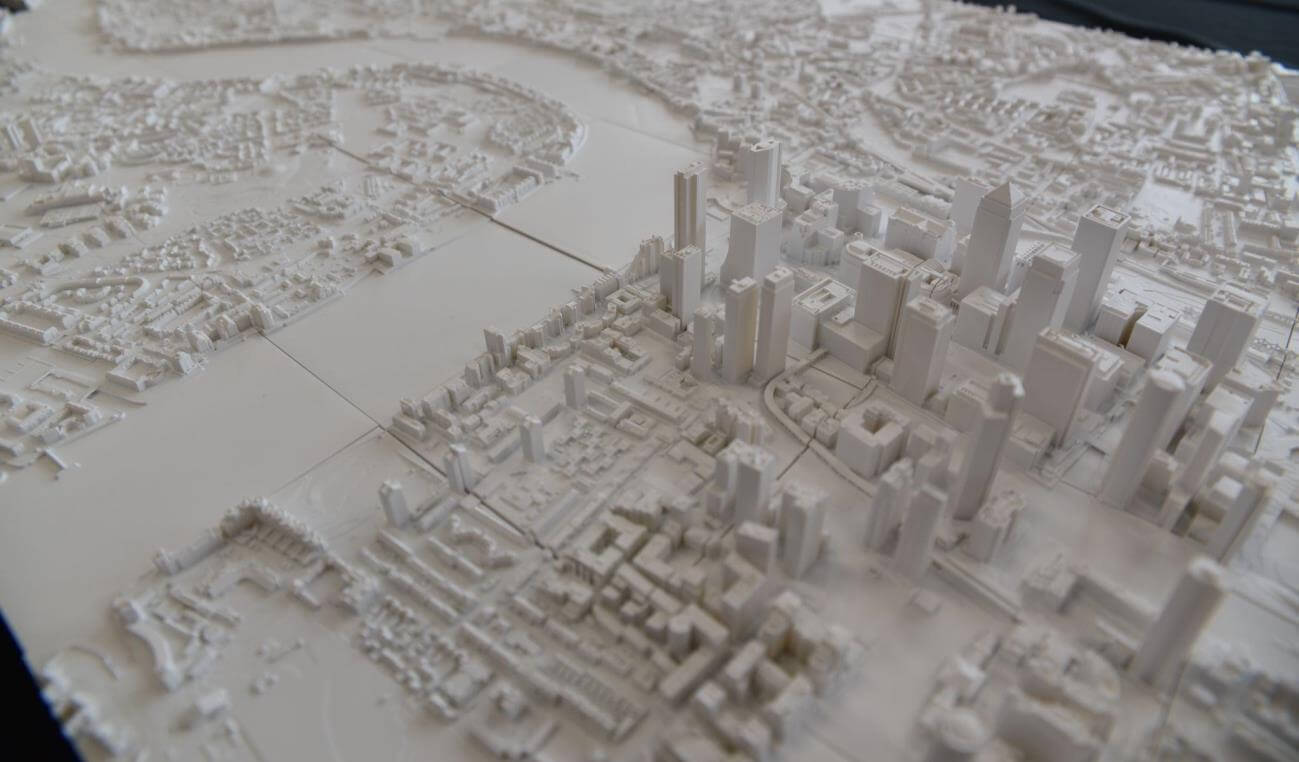 Innovators join forces to achieve the amazing
We've collaborated with AccuCities for years as mutual clients. AccuCities provides high-accuracy digital city models for Hobs to create architectural models and CGI's.
In the midst of lockdown, we saw an opportunity to combine our respective strengths to create something extraordinary: the most comprehensive 3D printed twin of London ever created.
"This was a project that was just crying out to be completed, "says Eric Savant, Managing Director of Hob 3D. "There have been other decent models of London made in the past, but nothing with this level of accuracy and scope. The combination of AccuCities's high-precision 3D modeling with our state-of-the-art SLA 3D printing gives us the ability to produce something very few others could achieve."
A valuable tool made affordable
The 3D printed model will be available to architects, urban planners and other customers who require an affordable physical city model. To keep pace with the ever-changing London skyline, the model is 3D printed in interchangeable 10×10 cm tiles (each tile covers 500 x 500 meters of the real-world environments). Any particular area can be easily and affordably manipulated and replaced.
"Creating a 3D printed London model in modular tiles means that we don't have to 3D print the entire city model for each project, only the tiles affected by change," says Michal Konicek, AccuCities Director. "Add to that the option to hire the rest of the model instead of buying it and suddenly the option to use a 3D printed model becomes affordable even for small and medium-size projects."
The difference is significant indeed; the cost and production time of a 3D printed model needed for a series of presentations over 4 weeks has dropped by as much as 95%.
3D Printed London model to suit your needs
The 3D printed model is available in a variety of ways. Customers can purchase reprints of any number of tiles from the model. They can order custom tiles, usually with proposed changes, highlighted features or simply a tile with a building removed so they can position designs 3D printed in-house. They can 3D print as many surrounding tiles as they require or they can purchase a copy of the entire 3D printed London model.
Customers requiring a 3D printed city model only for a short period of time can opt to hire the 3D printed model. The model rental is available from as little as 1 week and includes delivery and set-up, pack-up & removal at the end as well as the (optional) insurance.
More information about 3D Printed London: https://www.3dprintedcities.co.uk
16/11/2021