Recreating an icon of the past with tools of the future

Hobs 3D create full-sized 3D Sarcophagus model for Assassin's Creed Origins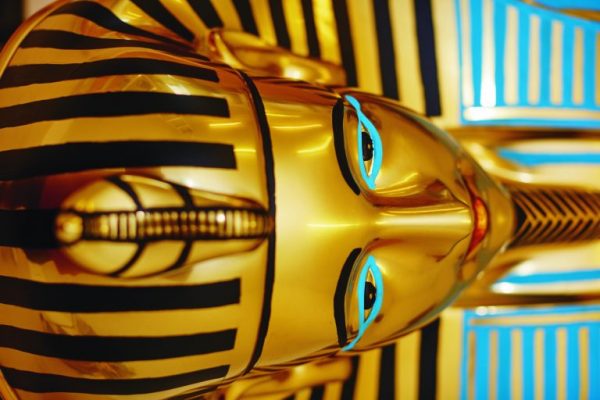 Challenge
To mark the global launch of the new Assassin's Creed Origins video game, Ubisoft wanted to produce an exciting and original promotional piece which mirrored its Ancient Egyptian setting. Inspired by the Egyptian pharaoh, Tutankhamun, Ubisoft approached Hobs 3D to create a life-sized model of his sarcophagus. The Hobs 3D team were challenged to bring to life this iconic artefact, using traditional methods combined with the latest 3D technologies.
Key Challenges:
Data capture and optimisation
Incorporating interactive, electrical components
Creating a unique yet recognisable model
Finding the right solutions for production
Solution
Working with Ubisoft, data was exported direct from the gaming environment, which the Hobs 3D team then converted into a usable mesh format. Data was then optimised for contouring and detail retention. The main body was produced using a multi-axis computer numerical control machine (CNC), where toolpaths are created based on the digital geometry, cutting away at built-up material which left an accurate, physical model of the CAD data.
Finer detailed components were manufactured on an iPRO9000 3D printer – the UK's largest custom-made SLA machine. The key benefit for using SLA technology to 3D print the model was its high level of accuracy. In SLA, a high- powered UV laser is used to cure liquid resin into a solid state. This was repeated layer by layer, until a full solid part was produced. The high-resolution SLA printer ensured contours were smooth and were true to the data, allowing the parts to then be easily bonded to the body of the sarcophagus.
The sarcophagus was then sprayed in a two-stage coating process. A high-gloss, hard chromatic coating was applied, which provided extra rigidity and protection for the model. Later, a gold-tinted finish was added for true colour. A team of dedicated artists were then commissioned to apply the detailed hieroglyphics and final finishing touches.
The Result
The final model has been used in Ubisoft's online marketing campaign to promote the video game. It's been extremely well received not only by the client, but also from the wider online and gaming communities.
As a publisher at the heart of the latest technological advancements in the videogames industry, we really wanted to showcase another innovative technology, alongside one of the most powerful images associated with Ancient Egypt – our new in-game setting in Assassin's Creed Origins. The final result is a stunning replica of a Sarcophagus, while adding a fun, gaming twist to the famous design.

Tom Goldberger, Senior PR Manager at Ubisoft UK
07/04/2021